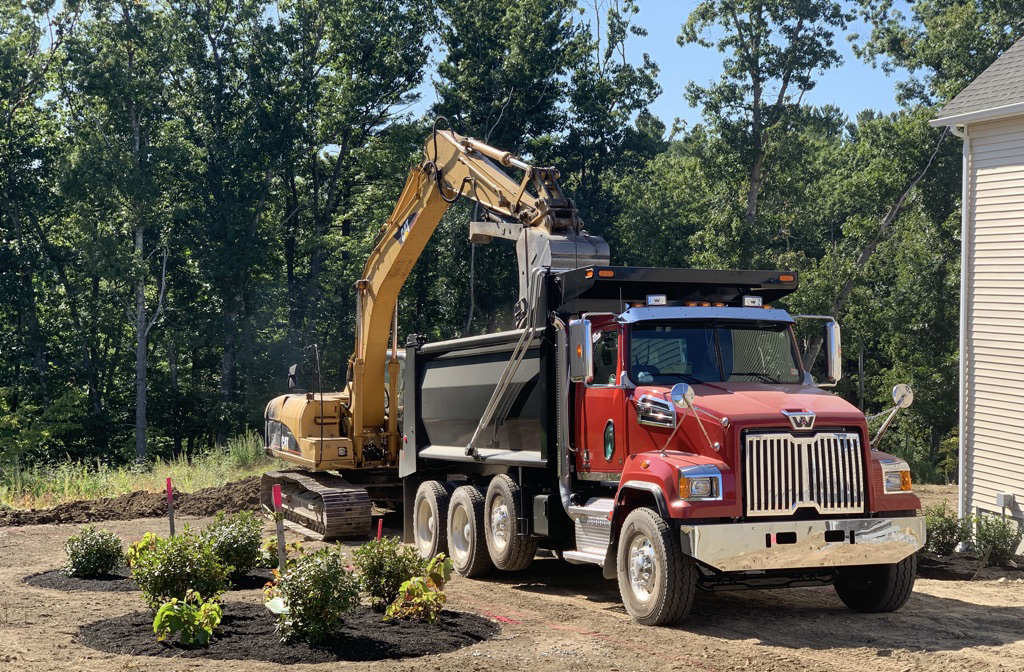 Welcome to New Hampshire Groundscapes!
"Mike and his crew did my complete septic system install and I could not be
any happier. They did an amazing job and gave me more level usable land to
boot!! Carter is really good at what he does and NH Groundscapes is
professional and just really does an exceptional job. I highly recommend
them."
"I can't say enough good things about Mike and his company, and this comes
from having used N.H. Groundscapes for multiple projects over the past
three years.
He is always pleasant, courteous and professional. This "can-do" attitude,
coupled with his extensive knowledge and experience, turn tough projects
into completed milestones without drama. He is always my first call when
another project comes up."
"Very professional, and easy going group. Owner worked with us for
scheduling and definitely made us feel like we were in good hands (which we
were). They did a very clean and professional job at our home. 10-10 would
recommend if your looking for a company that thinks of the customer. very
reasonably priced!"
"Great company to have do any ground work necessary. They did a great job on our church parking lot, drainage, and landscape/yard grading. Definitely know what they are doing. Give them a call and get a professional job done. Granite State Baptist Church, Concord, NH"
"HIGHLY recommend Mike and his team. Mikes work is excellent, reasonable, and VERY professional. I am a high end builder/ remodeler and would have no one else on site."
"HIGHLY recommend Mike and his team. Mikes work is excellent, reasonable, and VERY professional. I am a high end builder/ remodeler and would have no one else on site."
"I can't say enough good things about Mike and his crew at N.H. Groundscapes. After 3 estimates on my front lawn stump removal, septic pipe replacement and regrading and seeding of the front lawn. Mike's price was the best. Mike and his guys work hard and they don't stop! Everything was timed just as they said it would be and came out better than we had hoped. I will be turning to N.H. Groundscapes for future projects to beautify my property. They offer so many services and when I asked a question or needed to get someone else involved in the project…it was done! Mike took care of everything!"
"Professional. Got the job done on time and on budget. A pleasure to work with Mike and his whole crew."
"Thanks to NH Groundscapes' crew for their work on our property -making our wooded area into an awesome back yard and sledding hill, evening out our front yard, and giving us a new driveway. Thanks for making our house a place to which look forward to coming home."
"What I thought was an impossible situation did not concern Mike. Our back yard was a high hill with tall pines on it and a steep bank on the only access point – the town road. In 3 days 9 tall pines and many loads of dirt were removed. It is an amazing transformation, a project that had to overcome numerous obstacles including working in small spaces for the equipment. I doubt many companies would have attempted this with all the unknowns as to what would be found in the excavation and the access problems.
We are very pleased with the transformation that the neighbors have watched with some disbelief also! Thanks for making this Happen!"